[Gerber] Brushing and Polishing 설비 BP-Smart
페이지 정보

작성자
최고관리자
댓글
0건
조회
864회
작성일

20-12-16 15:09
본문
​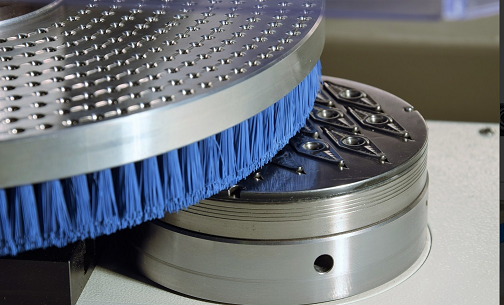 All around consistent deburring, radiusing of the contour and simultaneous polishing of the surface
The BP-Smart is an universal brush polishing machine for the removal of sharp burrs and the precisely defined application of radii or contours to edges up
to a part size of nominally Ø 260 mm. It simultaneously polishes the surface and reproduces determined results with constant accuracy.
The machine is characterized by its universality and versatility and is particularly suitable for machining precision parts such as drill tips, deburring parts, stamping,
fineblanking and coin punches as well as for targeted rounding of cutting edges on indexable inserts.
With all these workpieces, the BP-Smart fulfills a high surface quality and a top precision of the edge rounding.