[ FEINTOOL ] ELECTRO LAMINATIONS FOR ELECTRIC MOTORS AND DRIVES
페이지 정보

작성자
최고관리자
댓글
0건
조회
639회
작성일

22-07-27 15:41
본문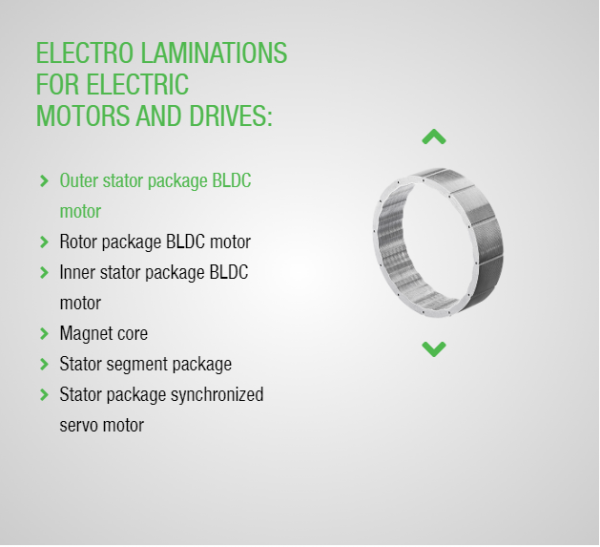 Synchronized servo motor
Permanent-magnet synchronized motors are characterized by a high level of overload capacity, robustness and compactness.  Thanks to very high power density, these can be installed in limited spaces. Thanks to a shared stator concept, the components boast high winding density.     Synchronized servo motors in performance-optimized single-pole design, made with cutting-edge winding and magnet technology, ensure precisely regulated movement and the utmost performance within the smallest possible space.  They are optimally suited for applications that demand a high level of dynamics, precision and low volumes – e.g. in the food and beverage sector or in the construction, automotive or timber industries.
BLDC motor
Thanks to their special design, brushless direct current (BLDC) motors are robust, hardwearing and maintenance-free.  The drives are characterized by their high level of dynamics, high overload capacity, maximum output of 300 watts and efficiencies of up to 90 percent. In the modular interchangeable design, the motors can be combined flexible with a large selection of gear boxes, brakes and encoder systems. The newly developed and highly efficient motor is suitable for a variety of applications:
* Cross-flow fans for trench heaters, air curtains and air conditioning units

* Pump drives, e.g. for heating and medical technology

* Drive technology, with various gear boxes
Actuating drive
Typical applications of actuating drives are the positioning and regulation of flaps and valves, mixed air boxes, multi-leaf dampers, smoke and exhaust flaps or engine valves.